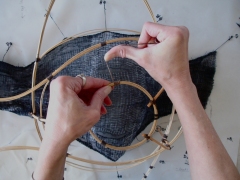 BIO
A recipient of a National Endowment for the Arts Fellowship, sculptor Mo Kelman has taught at leading New England arts institutions and shown her work in more than 50 exhibitions across the United States and in Europe, Japan and Korea.
In her current work, Kelman dyes elastic fabric "skins" using her own innovations on a Japanese shibori method, stretches them over bamboo or wire structures and tethers them to the wall. She has exhibited at the Federal Reserve Art Gallery in Boston; Chazan Gallery in Providence; Providence College; the 1155 Avenue of the Americas Gallery in New York; the Cleveland Museum of Art; the British Crafts Center in London; the International Shibori Symposia in Nagoya, Japan and Hong Kong; the International Textile Symposium in Kyoto, Japan; and at the Cheongju International Craft Biennale and Heyri Art Factory in South Korea. She is a recipient of a 2012 Artist's Fellowship from the Rhode Island State Council on the Arts.
Kelman, who lives in Providence, is a professor of art at the Community College of Rhode Island and has taught classes and workshops at Haystack Mountain School of Crafts, Snow Farm, Massachusetts College of Art and RISD. Kelman received her MFA from the University of Massachusetts-Dartmouth.
STATEMENT

In my sculptural work of the past several years I have been devoted to the making of "skins" using a traditional Japanese dyeing technique, mokume shibori. These patterned elastic fabrics are stretched and tethered between lashed bamboo structures and the wall.
Mokume shibori, a type of resist dyeing, involves sewing multiple rows of stitches across the entire plane of a fabric. Each row of stitches is pulled and tightly gathered. The shaped and compressed fabric is immersed in a dye pot where it resists the dye in a pattern that resembles woodgrain, the meaning of mokume. And the heat in the dye pot sets the shape, making a fabric that holds a memory of its compressed form.
I find freedom in working with a small range of materials and techniques. This limitation allows me to contrive a world of forms made by tying knots, lashing corners, stitching and stretching fabric skins.
I leave a record of the marks and mechanics of making in my sculptural forms. Nothing is hidden. I join parts with cords that wrap and bind. I leave trails of needle holes that tell of rows of sewing. A season of rhythmic work is made tangible.
My sculptures are tensile structures, seeking a point of balance that is tentative, a state of tension that is temporary.
While I find my inspiration in the organic world, I am compelled to give form to it in a way that is measured and controlled. In an unpredictable world, there is comfort in giving shape to flexible materials and fastening loose ends.